Can you imagine a financial advisor getting you into an investment — say, a mutual fund — and telling you not to ask about it, or even check on its performance, for the next five years? You would likely balk at such a suggestion and insist that you'd be able to review your investment at least once a year, or even more frequently.
Now, I'm not a financial advisor, I'm a real estate agent. Yet, the same principles apply when owning a home. You don't want to have five years go by — or even one year — without checking in on your "investment" and seeing how it's doing for you.
Indeed, it's important to regularly ask questions like:
"Is our home still meeting our needs?"
"What is the current market value of our property?"
"Does our property and neighbourhood still fit well with the lifestyle we want?"
"What kind of new home do we qualify for?"
Getting answers to those questions is crucial to managing what may be your most valuable investment: your home.
How often should you do this? I recommend a review once a year.
And, the good news is, you don't need to go through this process on your own. I can help. When it's time to review your property investment, give me a call. I can give you the answers and advice you need using the latest market data and information.
How to Decide if a Neighbourhood is Right for You



Say you've found a house for sale in an area that's unfamiliar to you. How do you figure out if it's going to be the ideal neighbourhood?
The first step is to take a walk. Stroll the neighbourhood and explore. If you get the chance, chat with homeowners and get their opinions of the area. Ask what they love about it. Also ask what they don't like.
Next, determine how the neighbourhood is going to fit with your lifestyle. You'll want to consider things like commuting routes, local amenities, schools, parks, shopping, etc. Google Maps is a great tool for this. Just turn on the satellite view and get a bird's eye view of the area and its features.
Finally, get the latest data on neighbourhood characteristics such as noise, demographics, crime rates, and more. You'll be surprised by how much data is available, and the valuable insights you can gain about what it's going to be like to live there.
If the neighbourhood turns out to be a good fit, consider making an offer on that house!
When a Buyer Makes an Offer, What Happens Next?



Imagine you're selling your home and an offer from a buyer comes in. You're excited. Your home might soon be sold!
What happens next?
Typically, we will review the offer together. There will likely be several things about the offer that need to be carefully considered. The most common are:
The offer price.
Evidence the buyer is financially able to purchase the property.
Conditions on the offer, if any.
If the offer price is far less than you anticipated, there might be an opportunity to counter-offer at a higher price. This is part of the art of negotiation, which is an important step in selling your home successfully.
The buyer's ability to afford your property is also important. Ideally, you'll want to see a Pre-Arranged Mortgage Certificate from the buyer's lender, or some other evidence that there won't be any financial problems closing the transaction. The amount of the deposit is also key.
Finally, you'll want to look at conditions. The most popular condition requires that your property pass a home inspection, but there may be others. Obviously, an offer with no conditions is ideal.
Considering Contractor Factors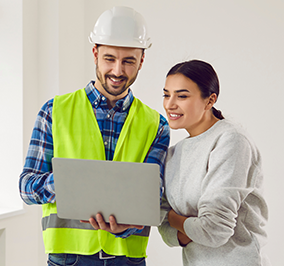 At some point, every home needs to be upgraded to become more functional for the family members who live there – or for resale. However, a major renovation can be frustrating, unless you're working with a reliable, knowledgeable general contractor. Here are some suggestions to help make your project go smoothly:
1. First, do your homework in advance. Identify needs and wants, such as design features and style, with an open mind about costs, timing and resale value.
2. Ask reliable sources for recommendations, but don't make commitments without meeting a number of contractors. Ask about adherence to budget and timing as well as advice on expectations. Ensure each contractor is registered in good standing with your municipality, and can adhere to building codes, secure permits and provide liability protection.
3. Interview at least three qualified contractors. Find out about their choices for architectural drawings or plans, subcontractors, suppliers and materials. Confirm the product and labour warranties they provide. Once satisfied, request that these and other details be included in a quotation with costs, completion dates, payment schedules for workers and materials, plus allowances for changes.
4. Meet on-site regularly, keep a journal and get receipts for purchases. Don't pay cash, or hand over your credit card. If necessary, ask your bank to issue a new card with strict limitations.