Did you know that major customer review sites get hundreds of millions of views each month?
It's hardly surprising when you think about it.
After all, when most people are looking to buy something, or hire someone, they tend to trust a recommendation more than an advertisement. That's true whether you're shopping for a car, restaurant, dentist, or… real estate agent.
In fact, referrals from valued clients are one of the main ways I build my business.
They are something I take very seriously. I work hard to be "referral worthy" by providing excellent service and continuing support — not just during a client's move, but in the years afterward. This e-newsletter is just one of the many ways I do that.
So, the next time you come across a neighbour or friend looking for a good real estate agent, I hope you'll feel comfortable giving them my name.
I'd really appreciate it!
And, please allow me to return the favour. The next time you're looking for a real estate-related professional — such as a contractor or electrician — reach out to me for a referral from my network. I'm happy to help.
Creating the "Wow" Effect in Buyers


It's incredible how quickly people form first impressions. According to some studies, people can develop lasting opinions within seconds of seeing someone, something, or someplace new.
That's why, when preparing your property for sale, it's important to do everything you can to make sure it looks attractive to buyers.
Nowhere does this first impression phenomenon play out more than when a buyer first enters your home. The moment they walk through your front door, they'll look around, take in the scene and form an impression.
Ideally, you want that crucial first impression to be, "Wow. This place looks great! I can hardly wait to check out the rest of this home."
So how do you ensure that happens?
One way is to play the role of a buyer yourself. Walk through your front door as if you've never been inside your home before. Pretend you're a buyer and look around. What do you see? What impresses you most from that perspective? What do you notice that concerns you?
Pay attention to anything distracting: walls in need of painting, cluttered furniture arrangements, too much or too little lighting. This exercise will give you immediate ideas for improving — or Home Staging, as it's called in real estate — the view from the front door foyer. For example, you might discover that a weekend painting project along with some decluttering, would make a big difference in how your home looks from this vantage point.
Typically, it doesn't take much work to make these types of changes and improvements. But, when you do, your home is likely to look more impressive to buyers as they walk through your front door. That's an impression that's likely to linger as they view the rest of your property.
Cleaning Tips for Instantly Improving Curb Appeal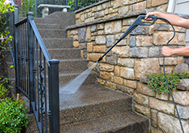 As you may know, curb appeal refers to how your property looks from the street, where potential buyers first see it. Your home's curb appeal can have a big impact on the sale of your property.
In fact, it's not uncommon for a buyer to drive by a listing, rather than stop, because they don't like what they see.
So, how can you improve your home's curb appeal quickly? One way is to do some outside cleaning.
Start with the main entryway. Wash down the front door and sweep (or power wash) the front steps. It only takes a few minutes, but you'd be surprised by the impact it can have. Sweep or power wash your walkway too and you'll improve the overall look of your home — sometimes dramatically.
Clean your front windows to brighten the look of your home's facade. It doesn't have to be an arduous chore. In fact, there are washing products available that attach to your garden hose. You don't even need a ladder! Ask your local home improvement retailer for recommendations.
If you have hedges and shrubs, give them a trim. To keep your trimming level, use a wide board, or even a piece of cardboard, then cut to the desired height. Pull off any dead leaves or branches. Of course, also mow the lawn!
Finally, inspect your property from the street. Can you see anything else you can do to quickly improve the look? Do you notice anything that is unsightly or distracting, such as garbage bins that could be relocated?
How to Deal with a Competitive Disadvantage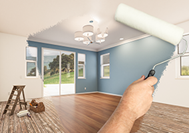 If you're selling your home and there are other listings in your area, buyers will naturally compare your property to those other listings.
Is there something about your home that you're concerned will be seen as a competitive disadvantage? For example, do you have a small kitchen or fewer bedrooms than most other homes in the neighbourhood?

There are a few things you can do to compensate for such disadvantages.

First, highlight the advantageous features of your home. Chances are, there are characteristics that make it stand out. For example, the look and style of your home may be cozy and enchanting. Or, you might have a desired feature, such as a terrific view.

Next, do everything you can to ensure your home makes the best impression possible to buyers. Remember, most buyers will only see your property once. So, pull out all the stops. That means decluttering, cleaning, painting, getting any needed repairs done, and staging effectively.

Finally, make sure you set the asking price strategically. That doesn't necessarily mean it needs to be low. But, it does mean that the price should reflect the market value of your home.