When someone recommends a professional to a friend or neighbour, they do so based on many factors. For example, if you were to suggest a landscape contractor to a friend, you would probably need to feel confident that the professional would treat your friend well and do a great job.
You might have other criteria, too, that would need to be met before you would make such a recommendation.
For me, it all comes down to trust. I often recommend contractors, movers, mortgage advisors, and other professionals to my clients. But, I do so only when I can trust they'll treat my clients like gold and provide the best service.
That leads me to an important question…
If you were to recommend me to a friend or neighbour, would you feel confident that I'd treat them well and do an excellent job?
I hope you would because that's exactly what I'd do! In fact, any new clients that come by way of a referral from you would receive first-class treatment — as do all my clients.
So, if you run into someone looking for real estate help, please give them my name.
As always, I appreciate your support!


Questions to Ask when Selling your Home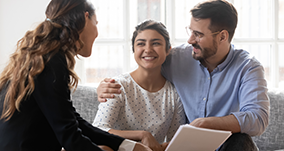 If you're thinking of selling your house, you probably have a lot of questions that need answers. In fact, asking the right questions is key to selling your home successfully and for the best price.
Here are some of the most important questions to ask:
How much is our house likely to sell for on today's market? What should the listing price be? What are the selling costs?


How long will it take to sell? What happens if our house takes longer than expected to sell?


How do we prepare our house for the sale? Will we need to make any major improvements? Will we need to hire a contractor?


What's 'home staging'? Will we need to hire a professional stager? Can we do some of that staging work ourselves?


What happens when we get an offer? What if the offer price is lower than we can accept? How does the negotiation process work?


What happens after an offer is accepted? What happens on closing day?


How do we find a new home while selling our current one?


Besides a good real estate agent, what other professionals do we need? How do we find them?


What can we do to make the selling process easier and less stressful?


Once you have answers to these questions, you'll find you'll be able to go into the selling process with a lot more confidence.
So, if you're thinking of selling this year, get the answers you need. Then, get the process started! 
Home Energy Saving Tips that Won't Leave You Shivering or Sweating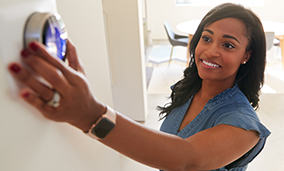 If you want to reduce your home energy costs, the easiest way is to turn the thermostat up or down. In fact, you probably won't notice a difference of 2 degrees either way — and the savings can be substantial.
However, if you want to lower your bill even further each month, here are some additional tips that are relatively easy to implement:
Plug or fix the drafts. Even in newer homes, air filtration can occur at windows and doors. So, check around your home for drafts. Windy or cold days are the best days to check. Then, get any drafts you find repaired or, at least, temporarily plugged.


Check the attic. Heat rises and can escape through the attic. So, once a year, check the attic insulation for thin or bare spots. The insulation should be even across the space.


Get smart with your thermostat. Most thermostats these days are programmable. Program yours to reduce the heat at night and when you're away in the winter. In the summer, be easy on the A/C during the day and save the cooling for nighttime.


Unused rooms? Close the vents to reduce heat or A/C. You might be surprised by how much that will lower your energy bill. (Think about rooms, such as a rec room, that you only use on weekends.)


Harness the sun. It's free energy! Whenever possible, keep curtains open during cooler seasons to take advantage of this heat source, even on cloudy days. Do the opposite during hot summer days.


Try some of these ideas over the next couple of months. Then, look at the impact they've had on your energy costs.
The Importance of Depersonalizing your Home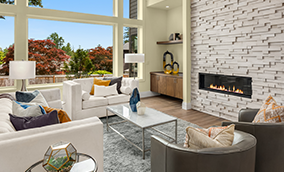 When a buyer views your home for sale, they want to visualize themselves living there. They want to imagine cooking in the kitchen, relaxing in the living room, and enjoying get-togethers with family and friends.
However, when they see a baseball trophy on the mantle with your name on it, that visualization crumbles. That's why it's smart to depersonalize your home as much as possible when selling.
You don't have to go too far. Simply do what you can to remove items that scream "We live here!" Consider stowing items such as:


Trophies, diplomas, certificates and anything else with a name prominently displayed on it.


Personal and family pictures.


Mementos, knickknacks and other items of a personal nature.


Notes, pictures, etc. on a fridge door or bulletin board.


Depersonalizing is a proven staging strategy that can help sell your home faster and for a better price. Depending on the number of personal items you have, you may be able to display them between viewings.